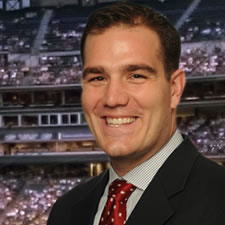 Public speaking is one of Ross Tucker's passions. In fact, Ross says it is the closest adrenaline rush he's ever gotten to playing football in the NFL. Ross began his speaking career after his first NFL season ended and has never looked back. He has done more than 100 speaking engagements for audiences ranging from an elementary school to senior executives at Verizon and everything in between.
Ross tailors his presentations to meet the specific objectives of any audience. Your group will be blown away after hearing Ross and will not only be inspired but will have a plan to take action in their lives immediately. He consistently receives rave reviews and is frequently brought in to motivate and inspire business leaders in a diverse cross-section of industrial sectors.
If you are looking for a dynamic individual to fire up your team, Ross Tucker is your man. He can keynote a general session, present a highly interactive workshop, or lead an off-site meeting for key members of senior management. His track record of success and unique background truly make him one of a kind. He WILL make a difference to your audience.
Check out a few video clips below from some of his recent speeches and then book him for your event by emailing contact@rosstucker.com!
Ross is a dynamic motivational speaker who exemplifies academic fortitude, ethical values and inspirational morals! He is articulate, intelligent and passionate about life and family. Alvernia University students are still talking about how inspired they are to reach for their dreams.
---
Sue Guay, Asst. Professor English/Communication
Alvernia University
As a 41 year old trial lawyer, I have been to numerous functions and have heard literally thousands of people speak both in and out of Court. Your presentation was right up there with the best. What surprised me the most was when I found out how young you are!
---
Sudhir Patel, Esq.
Ross Tucker's presentation was engaging and entertaining. Mr. Tucker brings a wealth of knowledge and experience from college, the NFL, and as an entrepreneur. Our students and staff found him to be relevant, inspirational, and challenging.
---
Ed Liesch, Student Services Dean
Central Penn College
Your message was really meaningful and your delivery was exceptional. Everyone really enjoyed your portion of the program.
---
Jeffrey Spotts, President
Spotts Insurance Group
Great content. The point by point summary recap was great. You accomplished more than you thought the other night. I went away thinking 'what I would give to be 32 again' full of enthusiasm and life.
---
Walter Meck, CEO
FesslerUSA
Ross is an exceptional motivational speaker – he has the rare gift to be entertaining, insightful and engaging across a wide range of audiences. I would not hesitate to use him again in any number of engagements, and I recommend him with the highest of praise!
---
Mike Zanolli, Founder & Principal
Aequus LLC
You were the hit of the show. My boss was really impressed!
---
Thomas Van Kirk, Vice President, Sales & Marketing
SFS intec, Inc.